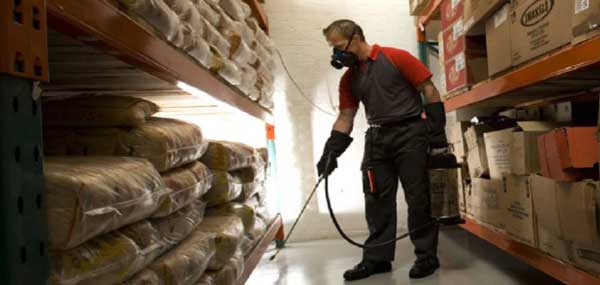 Fumigation is one of the most popular procedures used for pest control and extermination. This process involves the use of fumigants (pesticides in gaseous form) to poison the pests present in residential and commercial area. When it comes to performing efficient fumigation services,
Pest Control Unit
has a tailored solution for you. We have a team of exterminators who can provide structural and commodity fumigation services to customers across Melbourne.
What Does The Process Involve?
Step 1: The area that has to be fumigated is completely sealed off.
Step 2: The fumigants are released into the enclosed area and are allowed to fill the space completely.
Step 3: After considerable time, the fumigated area is properly ventilated with fresh air and sunlight.
Step 4: Thorough inspection is performed to ensure that the area is pest-free.
Types of Fumigation:
Here at Pest & Flood Unit, we perform two types of fumigations and they include:
Structure Fumigation: This type of fumigation is used to eliminate termite infestation in residential units, food processing facility, mills, pharmaceuticals and warehouses.
Commodity Fumigation: This type of fumigation is used to eliminate pests in storage units such as boxcars, truck trailers, shipping containers, etc.
Most Commonly Used Fumigants:
Phosphine
Carbon dioxide
Methyl bromide
Hydrogen cyanide
Sulfuryl fluoride
Heat treatments
Why Choose Us?
Looking for a Fumigation service near me? Fumigation has to be carried out only by professionals with proper training and experience. The exterminators at Pest Control Unit have certified authorities with knowledge on all types of fumigants and the ways that they can be used. Our area of knowledge includes determining the right type of fumigant and required quantity in relation to the area. During the course of the action, we place great emphasis on following eco-friendly methods that do not affect the environment in any way. If you suspect that your home or commercial building is infested, call us at
0415 589 338
for fumigation service.
Commodity Fumigation
Grain bins
Flat storages
Ground piles
Shipping containers
Ship/Barge
Structure Fumigation
Structure Fumigation
Food Processing
Mills
Warehouse
Pharmaceutical
Warehouse / Distribution
Pet Food / Animal Nutrition
Fumigants
Phosphine
Methyl bromide
Carbon dioxide
Heat treatments
Decontamination
Chlorine dioxide
Ethylene oxide
Propyline oxide