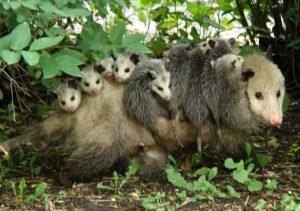 Known for their unique ability, possums are really a nuisance to homeowners. They will raid your yards, garden, and trash, and sometimes steal your pet's food. Being nocturnal, they settle down in your garage, attic, roof or under your deck. If you have possum infestation inside or outside your property, it should be treated immediately before they cause major damage to your property. Possums may also be infested with mites, fleas, ticks, and lice that can spread diseases to your family and pets. If you live in Melbourne, you can seek the help of Pest Control Unit for possum control. With years of experience, our exterminators offer safe and quick possum removal services in Melbourne and Mouse Exterminator Melbourne.
Our immense experience and knowledge about the industry allow us to cater to our client's specific requests and adapt advanced technology and methods to provide the best pest protection to their property.
If you want to get rid of possums, we recommend you to speak to one of our professional technicians. Our team comes fully prepared with the removal and protective gear and tools. We follow a systematic method to ensure a seamless and safe possum control experience in Melbourne.
Most Common Signs Of Opossum Infestation Include:
Damage to the exterior of your building
Vocalisations such as shrieking, hissing, lip smacking or clicking
Scratching, ripping and other strange noises
Large droppings and urine patches around your home.
Unpleasant smells
Vanishing of pet foods
How Can We Help You With A Possum Infestation?
After receiving a call from you, one of our pest control specialists will come to your home and inspect the property to find out the extent of the problem and the exact cause of the issue you are facing with. We will look for trails and evidence throughout your premises to confirm the presence of this invasive species.
Once we have confirmed possum infestation, we will use traps to catch them. These traps will be placed near the entry point or where the activities of possums are highly noted.  After trapping all the possums, we will also check whether any babies are left uncaught. Following this, we will seal all the entry ways to ensure that these animals never re-enter your home.
The trapped possums will be taken at least ten miles away from your home to release them in a woody area. This approach, backed by years of experience, ensures a possum-free environment that aligns with ethical standards and industry best practices. The possum removal in Melbourne and Termite Treatment Melbourne also includes removing contaminated nesting materials before leaving your property.
We recognize that each possum situation is unique, requiring personalised attention and strategies. Whether you're dealing with a minor possum presence or a more complex infestation, our experts have the knowledge and tools to deliver effective possum control services that restore tranquillity to your property.
To get assured results, choose our possum control services in Melbourne. We ensure that our team will alleviate your existing possum problems in just a few hours. We provide custom treatment plans that suit the needs of our clients and their properties. We examine the level of infestation first then offer long-lasting solutions and safe treatment plans.
So, if you notice the signs of possum infestation, don't hesitate to call us at 0415 589 338. We have the experience and expertise to help you with all your possum control issues.
Frequently Asked Questions
[/vc_column_text][/vc_column][/vc_row]