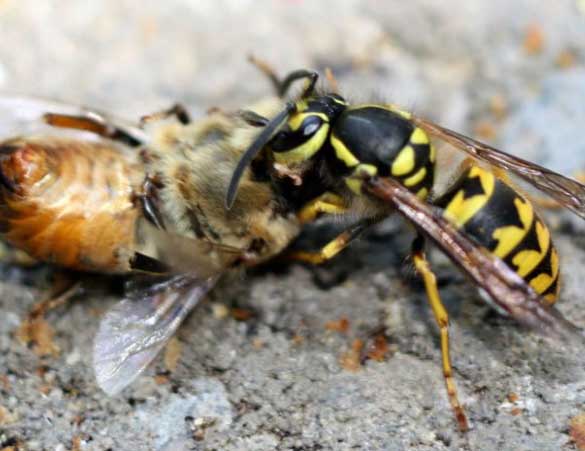 Wasps are a serious problem in Melbourne, especially when they build a nest inside or close to our homes. Vespula vulgaris and Vespula germanica are the two commonly found wasp species in Melbourne, Victoria. They are a real nuisance to human beings, and unlike a bee, they can sting many times. A wasp sting can be very painful, and sometimes they cause an anaphylactic shock.
If you have found a wasp nest either in your home or outside, call in Pest Control Unit that offers wasp control services in Melbourne and Pest Exterminator Melbourne to effectively deal with your wasp problem.
Professional Wasp Removal in Melbourne
Wasps are not at all friendly insects, they attack in packs and their stings may even require medical attention. Attempting to remove a wasp nest by yourself can be dangerous as they can be found in thousands and become very aggressive even with small disturbances. If they choose to attack, you will end up getting multiple, painful stings. The safest thing you can do to remove a wasp nest is to employ a professional wasp control Hawthorn team like us to handle the situation. Our professionals have the right tools and equipment to remove the wasp nest safely. The extermination specialists will ensure your property is free of wasps.
Safe & Sound Techniques:
We have years of experience in the pest control industry and are well-versed in the behaviour of wasps. With our sound knowledge and access to high-end tools, we remove the nest safely by taking necessary precautions. During the wasp removal in Melbourne and Cockroach Pest Control Melbourne, we use professional-grade, eco-friendly insecticides that are completely safe to humans and pets but are powerful enough to eliminate this dangerous inspect from your premises.
Wasp Treatment:
Our comprehensive wasp treatment services and Bed Bug Exterminator Melbourne involve a thorough inspection of your property, developing a tailored treatment plan and extermination. We not only help with removing the nests and exterminating the wasps but also provide proofing services to ensure that the wasps don't return to your property the following summer. Moreover, we also provide sound advice on reducing the risk of wasp infestation in the future.
Why Choose Us For Wasp Control Melbourne?
Same day wasp nest removal for homes and businesses,
Fumigation can be carried out for wasp nests in attic spaces, garden sheds and lofts,
Proofing services provided to prevent future infestation,
Powerful yet eco and pet friendly pesticides are used,
Cost-effectiveness & 100% satisfaction guarantee.
To make your property wasp-free, call Pest Control Unit on 0415 589 338 and book your wasp treatment today.